FloorsByPros gives you a wide variety of options with unfinished Hardwood Flooring.
Unfinished Hardwood gives you the ability to add custom features to your floors, such as Hardwood borders, Hardwood wraps, feature strips, and Hardwood inlays.
Unfinished Hardwood comes in a variety of widths, ranging from 2-1/4″ wide to 12″hardwood finishing plank Hardwood.
Whether you are looking for clear maple or rustic pine, we offer a wide selection of Hardwood species.
More finish options, such as Oil Based, Swedish Finish or environmentally friendly Water Based Finish.
Custom stained on-site to your specifications.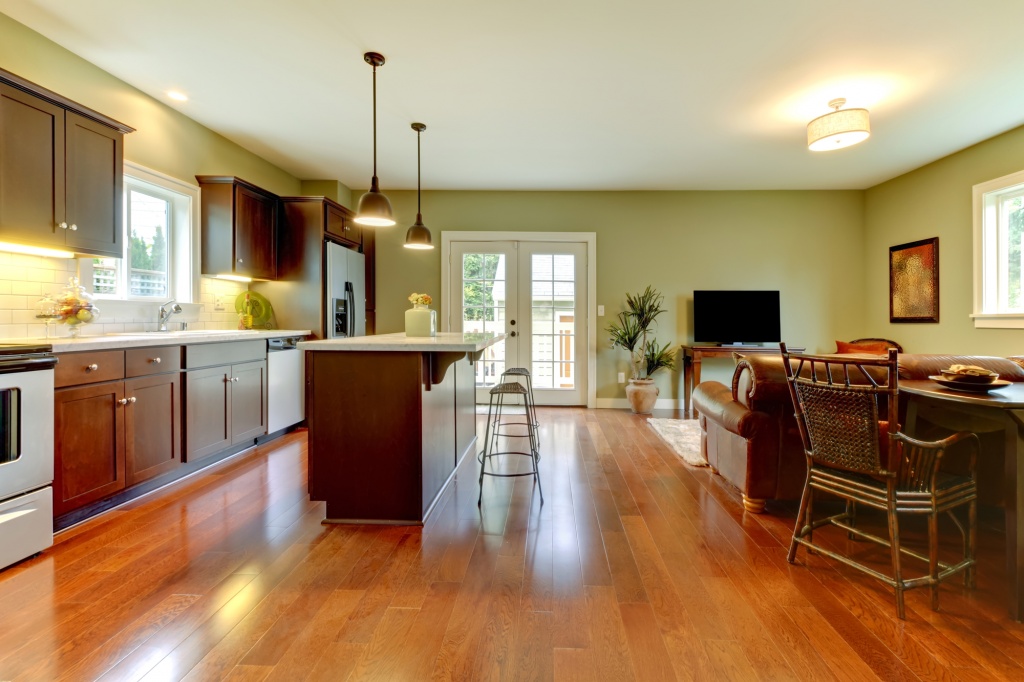 Sealers: We use two types of polyurethane sealers:
Oil-based poly, which has a light honey patina that adds to the beauty of the hardwood and brings out the natural wood grain patterns.
Water-based sealer is used in situations where a light-colored wood needs to meld into the decorating scheme of the room. Note: there is a water base poly available that does add a slight amber tone to the hardwood.
Stains: Our high-quality stains come in a variety of shades and patinas. They are designed to penetrate and seal the hardwood while adding luxurious color. A coat of stain takes the place of a single polyurethane coat.
RE-FINISHED HARDWOOD FLOORING INSTALLATION
The hardwood flooring industry has undergone great change in the last 15 years or so. A large part of the change has been in the continued strong growth in prefinished (factory finished) engineered flooring. Through a combination of technological and marketing wizardry, prefinished wood floors have continued to gain popularity.
Most Pre-finished Hardwood flooring installations can be completed in one or two days.
There are hundreds of Pre-finished Hardwood flooring species available from a variety of manufacturers.
Pre-finished Hardwood installations have become a popular choice for homeowners who want the beauty of a site-finished hardwood floor but do not want to deal with the preparation necessary with the conventional site finished Hardwood floor.
Pre-finished hardwood Floors are completely sanded and finished prior to installation. This greatly reduces the time needed to complete installations, and many of the Hardwood floorings manufacturers offer warranties on the life of their Hardwood floor finishes.
There are many styles of pre-finished Hardwood flooring available in a variety of stain colors and finish types.
Whether you are looking for a hand-scraped walnut, distressed maple or a traditional oak Hardwood floor, our Hardwood floor pros can expertly install all pre-finished Hardwoods.